CCA staff support the Canadian beef industry by executing the vision of the board of directors and engaging directly with industry stakeholders and government.
To learn more about our staff members, click on the photos.
Dennis Laycraft
Executive Vice President
Leading the CCA and its various divisions, Dennis serves as a spokesperson for the beef cattle industry on trade, product safety, and animal disease issues. A senior policy analyst and lobbyist for the CCA, Dennis addresses issues at the national and international levels which impact Canada's beef cattle industry. He manages any legal actions that the CCA undertakes to defend Canada's beef cattle sector from trade actions or unfair trade practices and is a member of the industry technical advisory group on World Trade Organization (WTO) negotiations.

Participating on several government and industry task forces and committees, Dennis has chaired or sat in an advisory capacity on many initiatives including the Regulations and Standards working group on the Agri-Food Competitiveness task force; advisor to Canada's Auditor General's department on a number of food inspection and research matters; and is the current co-chair of the Beef Value Chain Roundtable which brings together industry leaders throughout the value chain to provide strategic direction. Dennis is a founding member of the Canadian Beef Grading Agency.
Ryder Lee
General Manager
Ryder leads the Canadian Cattle Association's (CCA) operations as General Manager. Working closely with Dennis Laycraft and CCA's elected leaders, Ryder engages with divisional leads on most key files to keep activity, policy and strategy aligned. Ryder's background with the Domestic Agriculture Committee and Animal Health and Care committee work over the years make those areas more often a focus of Ryder's direct involvement.
 
Ryder worked for the CCA in Ottawa from 2005 to 2015, where he was responsible for advancing federal and provincial files as the Domestic Agriculture committee's staff lead. He also worked on animal care issues leading him to become chair of the National Farm Animal Care Council from 2014 to 2022. From 2015 to 2022, Ryder was the CEO of the Saskatchewan Cattlemen's Association, where he worked on many similar files to CCA with a provincial focus. Prior to CCA, Ryder worked for Dow AgroSciences. Ryder's brother runs the ranch in southern Saskatchewan where he spent his early years. His career has seen him working and living in Alberta, Saskatchewan, Manitoba, and Ontario. He brings the experience he gained during his time at CCA, along with the wider exposure he received to agriculture in previous roles, to his everyday work for beef cattle producers.
Jennifer Babcock
Senior Director, Government and Public Affairs
Based in Ottawa, Jennifer leads CCA's government and public affairs team, developing strategies to communicate CCA's policy positions with the Federal Government and stakeholders. Prior to joining CCA, Jennifer worked in public affairs and advocacy with a focus on agriculture, health, trade, and environment. Jennifer also previously worked on Parliament Hill. She is involved in Canada's government relations community, and advocates for mentorship and wellness opportunities within the profession.

Jennifer is also the staff lead for the Canadian Cattle Foundation, working with the Foundation's board to develop partnerships with donors and identify sustainability and education opportunities in support of the Foundation's vision. Follow Jennifer on Twitter @Jenn_Babs.
Myra Altwasser
Government Relations Coordinator
Based in the Ottawa office, Myra Altwasser supports CCA's domestic advocacy and communications efforts. She coordinates strategic fly-in meetings for provincial members, plans and executes CCA events in Ottawa, aids in outreach and engagement with Parliamentarians and officials, and relays CCA activities back to producers. Before joining CCA, Myra worked with the Canadian Agri-Food Policy Institute (CAPI) and the Canadian Meat Council (CMC). She brings experience from her family's beef operation in Southern Alberta to her role in Ottawa. Follow her on Twitter at @maltwass.
Glenice Bratvold
Accounting Coordinator
Providing accounting support to CCA's Controller, Glenice is responsible for full-cycle accounting for CCA and its multiple divisions and departments.  She plays an important role in both month-end duties and the annual audit.
Sherin Chopra
Operations Coordinator
Sherin brings a diverse range of professional experience in business administration and service operations. She has worked with a variety of industries and departments for projects, sales, retail operations, customer service, academic compliance, supply chain, logistics, geoscience and event planning. 
 
As an Operations Coordinator, Sherin supports the management of CCA's operational needs including project administration and financial reporting for government funded programs. She also assists CCA and its operating divisions with projects including annual corporation filings, oversight of insurance and other annual reporting and renewals along with other emerging administrative requirements.
 
Sherin also provides administrative support to the Canadian Cattle Foundation to assist with foundation operations and board activities including annual charitable reporting requirements, meeting planning, and fundraising activities.
Jarred Cohen
Regulatory Affairs Manager
Based in Ottawa, Jarred leads CCA's regulatory efforts, particularly in response to government consultations, submissions, and letters. He supports CCA's domestic agriculture and food policy files and helps craft policy positions with the federal government and industry stakeholders. Prior to CCA, Jarred worked at one of Canada's leading business associations on several files including agriculture, transportation, and health. He has a keen interest and knowledge of the Canadian political scene and uses that knowledge to drive policy files forward. Follow Jarred on Twitter at @jarred_cohen.
Paula Jenkins
Office Manager
As office manager, Paula oversees all office administration, CCA's annual general meeting, semi-annual meeting preparation, staff support, expenditure allocations and travel arrangements. 
Daniela Lombardo
Trade Policy Officer
Daniela Lombardo is a trade policy officer in CCA's Ottawa office. Her role involves research, communications, and policy analysis about Canadian beef trade. Daniela received an honours bachelor's degree in International Studies with a specialization in Political Economy from Trinity Western University. Her undergraduate thesis looked at the effects of NAFTA on Mexico's economic development. Before joining the CCA team, Daniela worked with the Inter-American Institute of Cooperation in Agriculture (IICA) in Ottawa, Canada. Born and raised in Mexico, Daniela is bilingual in English and Spanish. Her focus areas include trade, economic development, agriculture, and sustainability. Follow Daniela on Twitter: @dlombardo279 
Michelle McMullen
Communications Manager
Based in the Calgary office, Michelle leads communication efforts to promote the benefits of beef production in Canada, the important initiatives undertaken by producers to sustainably produce safe, high-quality beef, and the work undertaken by CCA. Prior to joining CCA, Michelle worked in the grain industry and the federal government in various capacities including market development, communications, and government and public affairs. 
Caron brings a broad range of experience to her position with the CCA. After starting her career in and Oil and Gas and Tech industries, she has found a passion for the not-for-profit sector and agriculture. Caron manages CCA's accounting department and is responsible for financial reporting, payroll, benefit administration and numerous other required financial responsibilities.
Jessica Radau
Youth Leadership Coordinator
Based in CCA's Calgary office, Jessica coordinates and supports the Cattlemen's Young Leaders (CYL) program and the Young Cattlemen's Council (YCC). Jessica is a 2018 graduate of the CYL program and is responsible for planning events, coordinating communications, sourcing funding and acting as the CCA staff person for the CYL program and YCC. Follow Jessica on Twitter @JessicaR_Giles.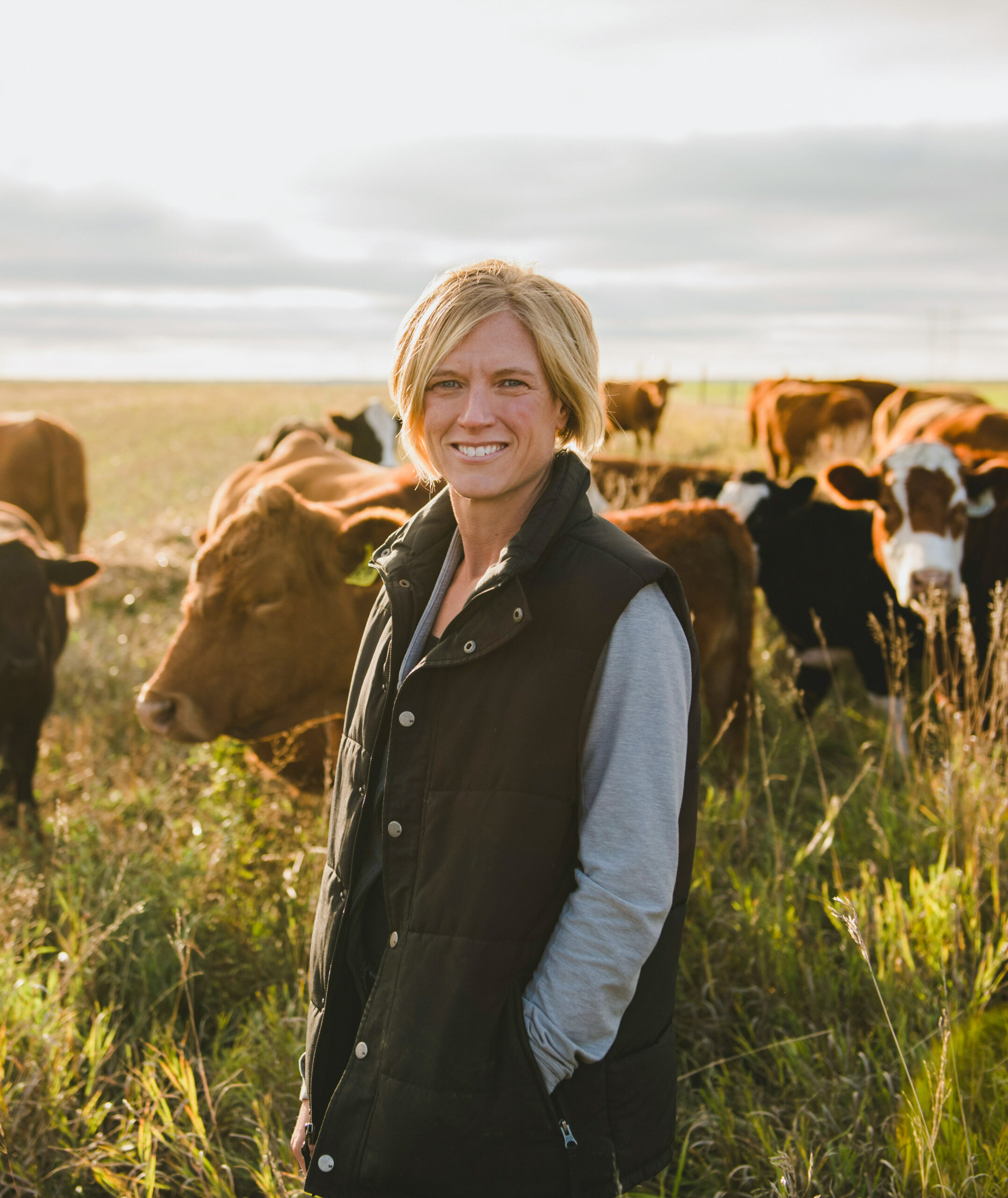 Leigh Rosengren
Chief Veterinary Officer
Dr. Rosengren graduated from the Western College of Veterinary Medicine at the University of Saskatchewan in 2001. After graduation Leigh worked in mixed animal practice in Humboldt and Weyburn, Saskatchewan. She received a PhD in Veterinary Epidemiology from the University of Saskatchewan (2008) and established a consulting service for Canada's livestock and poultry sectors with their animal health and food safety concerns. 
 
In recent years, Leigh has been focused on the family farm and cow calf operation. While doing so she completed a Masters of Agribusiness from Kansas State University (2021) with the intention of expanding consulting services to incorporate a more financial focus on health and management decisions.
 
Leigh has recently joined the Canadian Cattle Association as their Animal Health and Care lead. She also sits on the Saskatchewan Cattlemen's Association as a director and serves as the Animal Health and Welfare committee chair.
Larry Thomas
Manager, Environment and Sustainability
Managing environmental issues facing the industry, Larry staffs the Environment Committee and participates in many research and joint initiatives between the industry, government and international groups. Larry works on helping to set research directives, producer communication and environmental policy for the Canadian beef industry. Larry represents Canadian cattle producers at the Global Roundtable for Sustainable Beef, the Commission for Environmental Cooperation, and other sustainability committees. 
Mitchell Zoratti
Environment and Climate Change Coordinator
Mitchell assists CCA staff on the priorities of the environment committee with a specific focus on climate policy, government advocacy, and on environmental issues of importance. Mitchell is the fifth generation on his family's cow-calf operation in SW Alberta, and he leverages this background in his capacity as the Environment and Climate Change Coordinator. His role is to network with allied organizations, conservation groups, academic institutes, government staff, politicians, and other entities, as needed, and to sit on various committees and working groups, to ensure the interests of cattle producers are well represented on issues around climate, environment, and sustainable beef production.
Beef Cattle Research Council
Andrea Brocklebank
Executive Director
Overseeing the Beef Cattle Research Council (BCRC), Andrea works collaboratively with the industry to identify research priorities for the BCRC. She manages the evaluation, selection and implementation of these research projects. 
Shannon Argent
Business Manager, Verified Beef Production Plus (VBP+) 
As Business Manager for Verified Beef Production Plus (VBP+) Shannon works closely with the rest of the national VBP+ staff and provincial coordinators to deliver the VBP+ program across Canada. Shannon is primarily responsible for national initiatives related to partnerships, business activities, and outward facing VBP+ projects. VBP+ delivers training and verification services in an effort to demonstrate responsible practices at the farm and feedlot level on Canadian beef operations. Shannon brings a range of beef-related career experience, practical family farm and ranch experience, and a deep passion for the VBP+ program, to help manage VBP+'s business operations. 
Reynold Bergen
Science Director
Dr. Reynold Bergen provides scientific and industry expertise to the BCRC and Beef Science Cluster, working with industry to identify research priorities, review research proposals and scientific reports, and engaging with industry and research experts on an ongoing basis. To ensure producers have access to current research information, he develops factsheets for projects funded through the BCRC, and writes articles that are available through the CCA, provincial beef organizations, various agricultural media outlets and BeefResearch.ca. Reynold also works to gather and provide relevant research-based information for industry, public and government communications on specific issues. 
Michelle Bryan
VPB+ Technical Manager
Michelle is responsible for providing direction and support for the technical verification requirements of the VBP+ program and support to VBP+ Delivery Services Inc. certification services. Michelle will be based out of her home office in Alberta.
 
Michelle completed her BSc in Biological Sciences at the University of Lethbridge and an MSc in Agricultural and Bioresource Engineering at the University of Saskatchewan, where she focused on livestock welfare during long distance transportation. She has also holds a CRSP (Canadian Registered Safety Professional) with a focus in on-farm safety as well as Oil & Gas, trucking, and international logistics. Michelle has worked within the Canadian cattle feeding sector and also within the oil and gas industry as a technical consultant and data analyst with emphasis on quality, safety and environmental metrics. Michelle enjoys trail riding out in the mountains on horseback and working border collies.


Ellen Crane
Extension Coordinator
Ellen helps coordinate the development, maintenance and utilization of various extension resources, including the BCRC's webinars, blog articles, and other content on www.BeefResearch.ca. 
Stacey Domolewski
Science and Extension Coordinator
Stacey assists with the review of scientific reports and gathering of relevant research-based information for various audiences. She helps coordinate the development, maintenance and utilization of various extension resources, including the BCRC's webinars, fact sheets and other content on www.BeefResearch.ca. Stacey also coordinates the BCRC's Beef Researcher Mentorship Program.
Sydney Fortier
Research and Innovation Coordinator
Sydney assists with the review of scientific reports and gathering of relevant research-based information for various audiences. She helps coordinate the development, maintenance, and utilization of various extension resources, including the BCRC's webinars, fact sheets and other content on www.BeefResearch.ca. Sydney also coordinates the BCRC's Beef Researcher Mentorship Program.
 
Tracy Herbert
Extension and Communications Director
Tracy oversees the development, maintenance and utilization of various research extension tools, including www.BeefResearch.ca, with a focus on accelerating the adoption of innovations related to production efficiencies, animal health, and food safety and quality to cattle producers and other industry stakeholders. To maximize investments in research, she also works to improve the efficiency and effectiveness of technology transfer in the Canadian beef industry through greater collaboration and empowerment of technology transfer agents, and supports direct engagement of researchers with industry.
Cassidy Klima
Technical Director
Cassidy pursues beef quality and food safety research that meets industry priorities while supporting the development of new technologies that drive the Canadian Beef Advantage.  She also engages in technical market access and trade policy development activities, providing technical expertise, analysis, and research to support industry advancement.
Charlotte Quickel
Operations Manager
Charlotte supports the development and implementation of BCRC's business planning and budgetary processes, project selection and management, results reporting, and assists with board and stakeholder engagement. 
Leah Rodvang
Interim Operations Manager
Leah was raised on a cow-calf and backgrounding operation in rural Alberta. She pursued her love of agriculture with a degree in Range and Pasture Management at the University of Alberta. In 2016, Leah moved to Manitoba to take a position as a Research Technician at Manitoba Beef & Forage Initiatives. In 2022 – 2023, Leah served as the Manitoba delegate to the Canadian Cattle Youth Council.
Linda Wakeling
Administrative Assistant
Providing administrative support to the CCA, Linda coordinates and administers various projects and committee meetings for the Verified Beef Production™ program and the Beef Cattle Research Council. This includes account tracking and reporting on various jointly-funded programs within the CCA such as Cattlemen's Young Leaders and other projects.  She provides administrative support on numerous industry research projects, including organizing materials for final submissions.
Canadian Beef Breeds Council
Sandy Russell
Chief Executive Officer 
Leading the Canadian Beef Breeds Council, Sandy works on behalf of the seedstock sector to address policy and regulatory issues and drive growth of both international and domestic trade for beef cattle genetics. As the Chief Executive Officer of CBBC, Sandy oversees the development of the Canadian Beef Improvement Network (CBIN), a collaborative network focused on increasing the utilization of genetic data and adoption of genetic innovations to create value for all sectors of the Canadian beef industry and to further advance industry-wide economic and environmental sustainability. 
Carla Borsa
Executive Coordinator
Carla Borsa
Executive Coordinator
Canfax and Canfax Research Services
Brenna Grant
Executive Director
Brenna Grant is the Executive Director of Canfax and Canfax Research Services (CRS), responsible for business development. Canfax is Canada's source of cattle market information. CRS provides the Canadian beef industry with comprehensive statistical and market information on the domestic and global beef trends. Economic analyses are utilized for marketing, research, policy and investment decisions supporting strategies, business plans and performance measurement.

Brenna grew up in SW Saskatchewan on a cow/calf, yearling grasser operation that her family still operates. She received a BA in Agricultural Economics from the University of Saskatchewan and a Masters in Applied Economics from Montana State University. She is currently the Chair of the Statistics Canada Agriculture and Food Advisory Committee and Chairs the Global Roundtable for Sustainable Beef's Climate Science Committee. CRS provides project and data management for the Canadian Roundtable for Sustainable Beef (CRSB) National Beef Sustainability Assessment.
Huiting Huang
Research Analyst 
Huiting is responsible for maintaining a wide variety of national and international data sets, writing for regular publications. A major part of her role is background research and statistical analysis on CRS projects. Her language skills have contributed to the reliable international data that CRS utilizes. She has developed decision making models using Canfax's unique database and has a background in survey analysis. She manages the Canadian Boxed Beef report and assists with data requests.Huiting joined Canfax Research Services in 2013. 
Jamie Kerr
Market Analyst
Jamie Kerr joined Canfax as a Market Analyst in May 2022. Jamie obtained a M.Sc. in Food, Agriculture and Resource Economics (FARE) from the University of Guelph, Ontario. Having spent time as both a beef and dairy producer he has first hand experience within the beef supply chain. Jamie does writing, speaking and research projects for the team.
Scott McKinnon
Market Analyst 
Scott McKinnon is a market analyst with Canfax and a fourth generation Alberta rancher. Scott has over 25 years of feedlot management experience involved primarily in seedstock, performance testing and research. 
Genet Mengistu
Environmental Data Analyst
Genet Mengistu
Environmental Data Analyst
Dinora Nemeth
Member Relations and Database Coordinator
Dinora Nemeth joined Canfax in March 2022 looking after Member Relations, invoicing, maintaining the website, and coordinating the weekly report. She supports the analysts in daily operations and keeps the databases current.
Dallas Rodger
Market Analyst 
Dallas responds to member inquiries for data and market analysis, gathering feeder prices from across western Canada, performs daily radio reports while also writing market commentary, and analysis in weekly reports. Dallas is the cattle on feed coordinator and has also taken a lead role on the annual feedlot demographic survey. Maintaining communication with cattlemen, feedlot managers, auction mart facilitators and agri-business professionals has been critical in providing timely and valuable market information. 
Michael Sydora
Research Analyst
Michael Sydora
Research Analyst
Public and Stakeholder Engagement
Amie leads the Public and Stakeholder Engagement (PSE) team which works to increase public trust in the Canadian beef industry by supporting industry synergies, forming strategic partnerships and connecting positively with consumers and the public. This includes addressing industry issues by coordinating key messages and specific responses together with provincial and industry organizations. Promotional content and campaigns are also developed that highlight the benefits of beef production in Canada. 
Lynsay Beavers
Stakeholder Engagement Specialist
As part of the Public and Stakeholder Engagement (PSE) team, Lynsay leads various projects to promote consumer trust in the Canadian beef industry, including the Beef Advocacy Canada program. She also works on issues response and assists with PSE communications, campaign strategy and execution. Prior to joining CCA, Lynsay worked in the dairy industry in extension, marketing and communications.
Emma Cross
Stakeholder Engagement Social Media Coordinator
As the Stakeholder Engagement Social Media Coordinator, Emma oversees the social media efforts of the Public and Stakeholder Engagement (PSE) program. Her role is centred around planning and creating content to increase public trust in the beef industry and highlight positive stories from Canadian beef farmers and ranchers. In addition, Emma offers support on issues response and public outreach activities alongside the rest of the PSE team. Emma is a rancher herself and dedicates her time away from her herd of purebred Herefords to creating effective communication between producers, industry stakeholders, and consumers.
Jenna Sarich
Stakeholder Engagement Technical Consultant
Jenna is the Stakeholder Engagement Technical Consultant and supports the accelerated delivery of the Public & Stakeholder Engagement (PSE) management strategy and business plans. A major part of her role is to seek, track and analyze research relevant to the beef industry and disseminate the information into key messages for stakeholders. Her duties also include providing scientific support and assisting in PSE projects to connect positively with consumers and the public. Jenna is a master's student at the University of Saskatchewan in the Department of Animal and Poultry Science and has a wide background in animal research, public outreach, and technical support."